Finit-Easy
DEFINITION OF ACCESSIBILITY
The Finit-Easy offers you the accessibility and freedom of movement you require for the professional finishing of poorly accessible places and angles. Finishing interior angles and smoothing weld seams are child's play with this innovative extension arm.
The application areas for the new Finit-easy are exceptionally wide. With its immensely strong drive and more compact design the Finit-Easy can be used for either lighter finishing work or heavy duty industrial applications. Whether you need to work on stainless steel, aluminium or special alloys, the Finit-Easy is your loyal friend!
Maximum output from your abrasive materials
Unused Rebel One disc
Used on a standard angle grinder
With the Finit-Easy
Key features
OPTIMAL ACCESSIBILITY
OPTIMAL ACCESSIBILITY
The adjustable protective cover and compact end ensure optimum accessibility. At 25 mm, this is the narrowest arm on the market; even sharp 30° inside corners can be finished.
MULTI-UTILISATION
MULTI-UTILISATION
Smart stainless steel flanges ensure effortless installation of all types of discs with different shaft diameters and thicknesses.
MAXIMUM PRODUCTIVITY
MAXIMUM PRODUCTIVITY
Maximum productivity thanks to the powerful 1700-Watt motor and robust planetary gear. Power is transmitted by an almost indestructible multi V-belt.
STAINLESS STEEL-SAFE
STAINLESS STEEL-SAFE
The machine is completely stainless steel-safe, which means there will be no contamination if a part makes contact with the stainless steel work piece.
SMOOTH OPERATION
SMOOTH OPERATION
The direct connection of the arm to the drive motor is unique. This results in smooth, comfortable operation.
Consumables
RCD
Rebel One SA/MA/FA/TA
Rebel One SAG/MAG/FAG
Cutting and grinding discs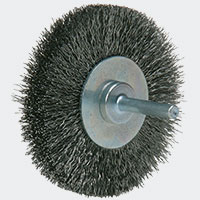 Stainless steel wire brushes
Polishing wheels and discs
Interested in the Finit-easy?
Get in touch with our grinding experts!